Meet us & know about our agency
The Mongolian travel agency 'Way to Mongolia' is a family-run agency and tour operator owned by local tour guide B. Baldyrgan, who hails from the western Mongolian Bayan-Olgii province. As a comprehensive local travel agency, it offers a wide range of services and accommodations in both western and central Mongolia. With 'Way to Mongolia,' you can arrange various tours in Mongolia, including trekking, hiking, and more. We provide reliable tour information, camping equipment, transportation with a driver and van, translator guides, chefs, accommodations, horse management, and other essential services to ensure safe and enjoyable tours throughout Mongolia.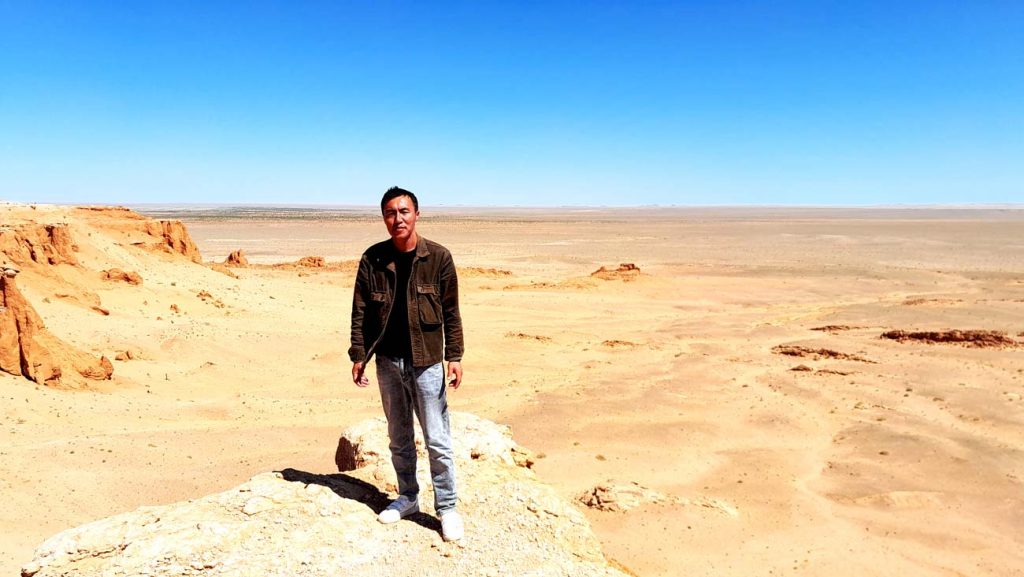 Baldyrgan began his career as a guide in 2009. He takes great pleasure in meeting people from around the world and providing them with the most up-to-date and accurate information about tours in Mongolia. Baldyrgan prides himself on never disappointing travelers under his care and is always ready to assist with a warm and friendly smile. He is highly accessible, attentive, and responsive, striving to create unique and unforgettable travel experiences for each individual. As a nomadic individual, he possesses extensive knowledge of local culture and history. His expertise in interpretation was invaluable to the filming crew of NATIONAL GEOGRAPHIC's TV show episode "SURVIVE the TRIBE (Eagle Assassins)." In 2013, he served as an interpreter and tour manager for a filming crew from Australian Channel 7, working on the TV show "BOY TO MAN" for DISCOVERY CHANNEL. Baldu also played a crucial role as the main organizer for a significant filming crew documenting the story of Aisholpan, the first 13-year-old girl from western Mongolia, in the years 2014-2015 (THE EAGLE HUNTRESS). He has also worked as a tour guide for the updaters of the latest edition of LONELY PLANET. Currently, his profound knowledge of every corner of western Mongolia enables him to design the best itineraries for travelers.
Welcome to Mongolia
Come and experience the captivating beauty of Mongolia! We extend a warm invitation to all adventurous souls seeking to explore this enchanting country. Immerse yourself in the rich nomadic culture, vast landscapes, and untamed wilderness that make Mongolia a truly unique destination. From the iconic Gobi Desert to the majestic Altai Mountains, there is something here to ignite your sense of wonder. Discover the ancient traditions of eagle hunting, witness the grandeur of the Naadam Festival, and embark on breathtaking horseback adventures across the steppe. Our experienced team is ready to curate unforgettable journeys, tailored to your interests and preferences. Let us guide you through this land of endless horizons, where the spirit of adventure awaits at every turn. Start planning your extraordinary trip to Mongolia today!
We take immense pride in sharing our passion for this incredible country with travelers from all over the world. Over the past decade, we have curated unforgettable adventures, immersing our guests in the rich cultural heritage, awe-inspiring landscapes, and warm hospitality that Mongolia has to offer. Our dedicated team of experienced guides, with their in-depth knowledge and love for Mongolia, will ensure that every moment of your journey is filled with wonder and discovery. Whether you dream of exploring the vast Gobi Desert, encountering nomadic herders on the sweeping steppe, or witnessing the breathtaking beauty of the Altai Mountains, we have crafted diverse itineraries to cater to every interest and travel style. We pride ourselves on providing personalized and immersive experiences, allowing you to forge genuine connections with the people and the land. Join us as we embark on another decade of exploration, creating lifelong memories in the heart of Mongolia. Let us be your trusted companion on this extraordinary journey of discovery.