PHOTOGRAPHY TOURS IN MONGOLIA
Workshop tour in Mongolia
Photography tours in Mongolia or workshop tours in Mongolia. Virgin nature, breathtaking landscapes, and beautiful lakes and fascinating mountains make Mongolia one of the best countries for photographing activities. It doesn't matter in what season you will visit and what destination you will take, Mongolia has its own beauties and own surprises for you.
In the winter we can offer you tours such as winter migration of western Mongolian nomads. This tour is one of the best tourist activities in Mongolia if you are making plans for photographing tours to Mongolian winter. For this tour, you will need around 10 Days total in Mongolia. 2-3 days you will spend in Ulaanbaatar city and rest 7-8 days you will spend with western Mongolian nomads. You will join to winter migration of Mongolian nomads and travel with them while they are moving their livestock from their winter place to their spring place. On your way, you will go through beautiful mountains deep snows and see how animals struggle to reach their destinations. This is a beautiful scene for photographers who loves take extremal photos or for the people who make workshop group tours to nature photographing activities.
If you are planning to visit us in the summer we have a lot to offer you too. We have snow-capped mountains of the Altai mountain range. Surrounding Altai mountains living many Kazakh nomads that rich with different cultures and customs. Their unusual and different lifestyles will surprise you for many days. As a professional photographer, you may spend days with western Mongolian nomads and still get disappointed when you are back home that you couldn't take enough photos. You can't stop yourself from shooting around as it is beautiful. Besides the Altai mountain area, you can also visit golden eagle hunters of Mongolia, Gobi desert, Khovsgol lake and also some historical places from ancient Turcik age.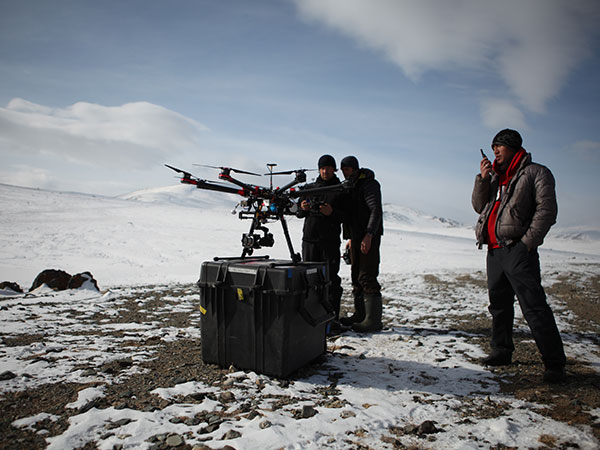 Photography tour in Mongolia
Visit our best events for photographing tours. In the Summer you can visit the Naadam festival that held all over Mongolia. At the beginning of Fall or late September, you can visit Golden Eagle Festivals that held in western Mongolian Bayan-Ulgii province. Some smaller counties make their own winter eagle festival by making compete local neighbor eagle hunters to each other during the whole winter. As those smaller festivals have no special dates announced earlier and if you would like to visit those festivals we recommend you to contact local agencies in Ulfii to receive the correct information.
Please do not hesitate to ask if you will have more questions about the tour in Mongolia. We will be very happy to help you and manage this tour in Mongolia for you. We can organize any photographing tours in Mongolia. You can travel with your photographer friends, with your family or just on your own. You can do workshop tours with us as well. As the main photographer, you can visit us with your student group or you can also visit us with your photographer clients.
Not just photographing tours, we are also experienced working with filmmakers as well. We know what you want and we can think as you think. We understand filmmakers and photographers. We can repeat twice or even many times until you get your final shot.
What do I expect to see in Mongolia
Why we are the best among other tour agencies?
There are only good reasons why you must choose our Mongolian Travel agency. It's because we're constantly looking for ways to make your vacation in Mongolia as unforgettable as possible, from the way we plan the trip to the authentic experiences you'll enjoy while away. Those added touches include several that no Mongolia-based travel agency offers. We pride ourselves on our original thinking.