Vacation in Mongolia
Vacation in Mongolia is becoming popular more and more and year after year since Mongolia left only one country that has left undiscovered by many people in the world.
If you're an adventurer who loves being out in nature, Mongolia should be next on your list. You can expect great wildlife photography opportunities and the chance to travel with a group of like-minded individuals who love the great outdoors. Among the most popular destinations for vacations include western Mongolia, the Gobi desert, and Khuvsgul lake.
Features of Vacation in Mongolia tour
The tour vacation in Mongolia itself includes all the best of western Mongolia. Here you can do trekking, hiking and also drive to visit only the best of all western Mongolian highlights.
A tour itinerary for "Vacation in Mongolia"
Day – 1
Arrive in Ulaanbaatar
Day – 2
Drive to Terelj national park & Monastery hike
Day – 3
Drive to statue of Chinggis Khan & Naran Tuul market
Day – 4
Take a flight to Ulgii & Sightseeing in Ulgii town
Day – 5
Drive to the gate of Altai Tavan Bogd national park
Day – 6
Trekking to the Potaninii glacier & Hike on the glacier
Day – 7
Hiking up to the Malchin peak
Day – 8
Trekking back to the gate of National park & Visit Tuvan family
Day – 9
Drive to the Khoton and Khurgan lake area
Day – 10
Waterfall hike & Eagle hunter & Drive back to Ulgii town
Day – 11
Take a flight to Ulaanbaatar city
Day – 12
Drive to Kharakhorum village the ancient capital of Mongolia
Day – 13
Drive back to Ulaanbaatar city & Wildlife watching
Day – 14
Drive to the international airport
THE BEST TIME TO VISIT
This tour is available from the end of May and the whole summer until the middle of September.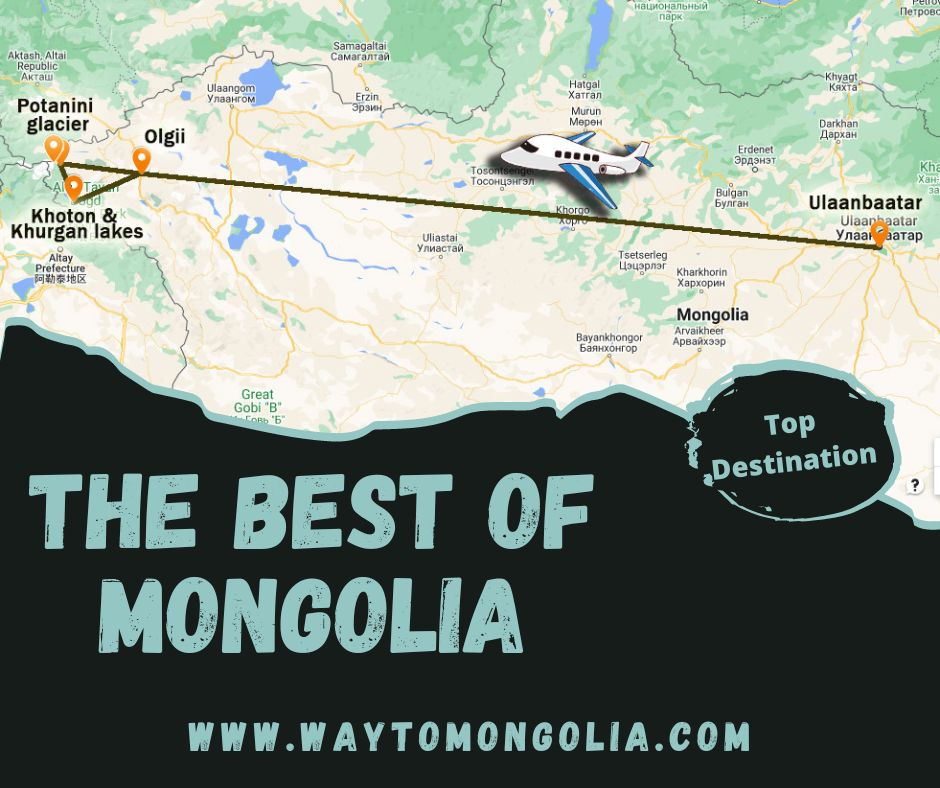 There are only good reasons why you must choose our Mongolian Travel agency. It's because we're constantly looking for ways to make your vacation in Mongolia as unforgettable as possible, from the way we plan the trip to the authentic experiences you'll enjoy while away. Those added touches include several that no Mongolia-based travel agency offers. We pride ourselves on our original thinking.
What do I expect to see in Mongolia
Why we are the best among other tour agencies?
High quality of Service
To help achieve these core values, we closely monitor client satisfaction and are consistently seeking new ways to exceed our clients' expectations.
A personal touch
You will know your personal travel consultant both by name and by face, as we make it a practice to greet our clients personally and go through the entire trip.
We have local knowledge
Since we began we've created unforgettable travel experiences all over Mongolia for thousands of clients from all over the world.
We are flexible
Our experienced travel experts have the resources at hand to make your dream holiday a reality. Why not contact us with your interests?
Save your time
Let us do the work for you! By choosing our agent, you can save time and hassle by booking all of your itinerary services directly with a specialized local guide.
Lifetime deposit
After booking a tour with us and later your plans have changed, your deposit is fully transferable and will be held for an unlimited time.