Gobi desert in Mongolia
Gobi desert tours in Mongolia is becoming more and more popular for people who wants to do wildest discovery tours in Mongolia.
Mongolia is famous for the beauty of nature, its virgin purity, and boundless open spaces. The country's greatest natural attraction is the Gobi Desert, which envelops Mongolia with a sandy arc from the Altai and Tien Shan mountains along the border with China to the Nanshan and Altıntag mountains and the Yellow River. The Gobi is amazing in its size: its area is 1.5 million square km, and in these vast expanses there are many interesting things.
The population density here is approximately 0.28 people per square kilometer. That is, you will calmly drive a couple of hundred kilometers without meeting a single settlement. At the same time, many small villages will be marked on the map, most of which turn out to be migratory camps in two or three yurts.
Translated from the Mongolian name of the desert means "waterless place." Over the 65 million years of the Gobi's existence, practically nothing has changed here, except that the wind, shifting the sand dunes in a grain, extracts the fossilized bones of ancient dinosaurs to the surface.
The remains of prehistoric dinosaurs were found in the Gobi desert at the beginning of the 20th century by scientists from the American Museum of Natural History, who was looking for evidence of the theory that Central Asia is the cradle of human civilization. The fossilized bones, dinosaur eggs, and their nests helped to make many discoveries about how these ancient dinosaurs lived and how they raised their offspring.
Mongolians have a division of the Gobi Desert into 33 sectors, although it is difficult for a person not familiar with it to understand and imagine. 33 small deserts inside one huge Gobi differ in structure types, types of vegetation and colors: there are flowering steppe plains, picturesque cliffs, clay, and stony hammads, vast hollows, saxaul groves, rare oases, salt marshes, and other diverse landscapes.
One of the most amazing deserts in the world, the Gobi is painted and fashioned by the forces of nature from transparent yellow sands, salt marshes and rocks, vibrating red-hot air, and a buzz of silence. In fact, the sandy part of the Gobi accounts for only 3% of the entire desert, the rest of its expanses show unique landscapes of clay and stone, mesmerizing landscapes, where many animals and plants also live. Black-tailed gazelles and goblin brown bears, wolves, saigas, and camels live in different places of the desert – all of them managed to adapt to a difficult life in the vast expanses of the desert. In the Gobi, there are also a few existing mountain rams, kulans, sirens, and gazelles that exist in the world.
Gobi desert tours in Mongolia
THE BEST TIME TO VISIT
This tour is available from the end of May and the whole summer until the middle of September.
ALL OUR TOURS ARE FLEXIBLE ACCORDING TO YOUR WISHES!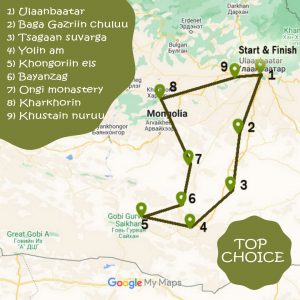 There are only good reasons why you must choose our Mongolian Travel agency. It's because we're constantly looking for ways to make your vacation in Mongolia as unforgettable as possible, from the way we plan the trip to the authentic experiences you'll enjoy while away. Those added touches include several that no Mongolia-based travel agency offers. We pride ourselves on our original thinking.
What do I expect to see during Gobi Desert tour in Mongolia?
Why we are the best among other tour agencies?
High quality of Service
To help achieve these core values, we closely monitor client satisfaction and are consistently seeking new ways to exceed our clients' expectations.
A personal touch
You will know your personal travel consultant both by name and by face, as we make it a practice to greet our clients personally and go through the entire trip.
We have local knowledge
Since we began we've created unforgettable travel experiences all over Mongolia for thousands of clients from all over the world.
We are flexible
Our experienced travel experts have the resources at hand to make your dream holiday a reality. Why not contact us with your interests?
Save your time
Let us do the work for you! By choosing our agent, you can save time and hassle by booking all of your itinerary services directly with a specialized local guide.
Lifetime deposit
After booking a tour with us and later your plans have changed, your deposit is fully transferable and will be held for an unlimited time.