Why Altai mountains in Mongolia is the best?
The Altai Mountains in Western Mongolia … One of the most remote areas of the country from the capital city Ulaanbaatar, untouched by neither industrial pollution and tourism industry of the area is just developing. During your visit to western Mongolia you have a unique opportunity to get in touch with this amazing, nomadic country, whose culture and way of life almost in its original form passed through the centuries.
Mongolian Altai
The Altai Mountains in Mongolia is one of the most beautiful mountains in the world. In the vast space of the Altai mountain region is joining the borders of four states – Russia, Mongolia, China, and Kazakhstan. The Altai mountains of Mongolia stretch to the southeast of the country from the western border with Russia to the eastern regions of the Gobi. Altai mountain region is conditionally divided into the western Mongolian Altai mountains and Gobi Altai (Beginning of Gobi desert). The area is really huge as it takes 248 940 square kilometers of the country. Administratively, this territory is divided into four different provinces – Bayan-Ulgii, Khovd, Gobi-Altai, and Uvs.
The name Altai means "Motley Mountains".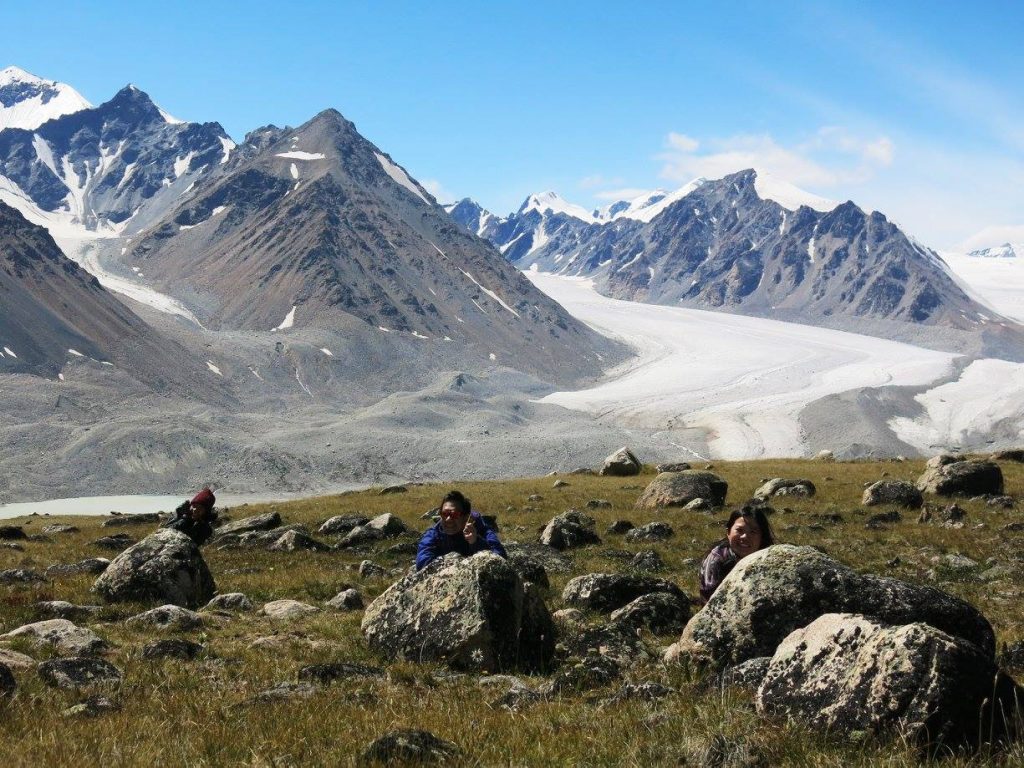 The highest peaks of Mongolian Altai
The highest part of the Altai region is the powerful mountain Tavan-Bogdo-Uul (Five Sacred Peaks). The highest point of the Mongolian Altai Mountains is the Khuiten peak with a height of 4374 m. This peak, located at the junction of the borders of Russia, Mongolia, and China, has long been revered as sacred among the Mongols and Kazakhs. Other mountains are also located on the territory of the Mongolian Altai, the height of which exceeds 4000 m. These are the Munkh-Khairhan mountains – 4362 m, Tsast – 4208 m, Sutai – 4090 m, Tsambagarav – 4149 m, as well as Kharkhira-Uul – 3965 m, Tsengelhayrhan – 3943 m, Ondorhairhan – 3914, Zhargalant-Khayrhan, and others. On the peaks of the Mongolian Altai there is a rather large area of ​​mountain glaciation, the forms of which are diverse. The largest Potanin glacier in Altai has a length of 20 km.
Altai Tavan Bogd national park
The main part of the Altai mountains is Altai Tavan Bogd national park in western Mongolia. The territory of the national park is rich in historical-cultural monuments. Here took root many unique plants, also rare and endangered species of animals are preserved such as Argali sheep, snow leopard, Eurasian otter, elk, stone marten. This area is convenient for the development of mountain sports and ecotourism. Every year, foreign tourists climb to the top of the park to enjoy the beauties of nature. In addition to the rich natural world, the reserve is known for many ancient attractions and mysterious architectural buildings.