How to get a Mongolian visa? Since Mongolia is becoming one of the popular destinations in the world, the number of people who want to visit Mongolia is increasing. Every year around 411 thousand travelers visit Mongolia.
Apply for a Mongolian Visa?
According to the normal process, you will need to visit the Mongolian embassy in your country, if there is no Mongolian embassy in your country you may visit the Mongolian embassy located in the nearest country for your location. Most countries have the Embassy of Mongolia. Usually, it is easy to get a Mongolian VISA for all types of travelers.
Since 2022 it is much easier to get Mongolian visas. You don't need to go to embassy in person anymore as it is now electronic visas. You can easily apply for visas online here!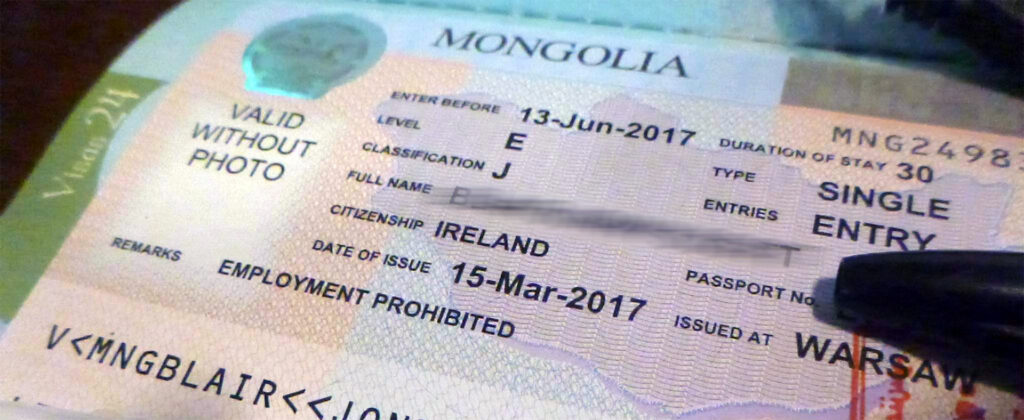 Mongolian VISAS types
Tourist (J) visa with a single entry for up to 30 days
Business (B) or Official (A) visa
Family visit or Private invitation (H) visa
Transit visa
International organization (OU) visa
Investors(I) visa
Employment(HG) visa
Students(S) visa
Religious organization (SH) visa
Migrates(TS) visa
This information bellow can be not accurate as Mongolian visa free country list can be updated since this article was published. Please feel free to contact us if you need any latest information about Mongolian visas.
How many VISAS-free countries to Mongolia?
Nationals of those countries which have concluded visa exemption agreements with Mongolia, arrangement for diplomatic and official passport holders are not required to obtain a visa if the intended period of the visit is not beyond the period allowed under such arrangements. For more information regarding the list of visa-free countries are:
The up to 90days free-visa countries:
USA, Brazil, Georgia, Kazakhstan, Kyrgyzstan, Macao, Serbia, Ukraine, Bulgaria, Chile, China, Cyprus, Czech Republic, France, Germany, India, Italy, Laos, Mexico, Peru, Poland, Slovakia, Vietnam,
The up to 30days free-visa countries:
Canada, Germany, Israel, Japan, Malaysia, Russia, Thailand, Turkey, Cambodia, Colombia, DPRK, Great Britain, Hungary, Indonesia, Myanmar, Republic of Korea, Romania.
The up to 21days free-visa countries:
Philippines, The up to 14days free-visa countries: Hong Kong, Singapore, Brunei
Approximate costs of Mongolian VISAS
Entry Visa: single -$23, double – $35
In USA: Single entry visa – $60.00; Double entry visa – $80.00
Entry-Exit visa: single -$23, double – $35
Transit Visa: single -$15, double – $30, multiple- $40
Multiple Entry-Exit Visa: 6 months-$53, 1 year-$105
Visa Extension: Up to 7 days- $12, More than 7 days -$20
"A", "O", "B", "S", "J" -$160
HG", "SH – $190
"H" – $230
T"- $270
"TS"- $230
Foreigner who married to a Mongolian Citizen – $240
For the transfer visas and classification to replace – $160