All you need to know about national museum of Mongolia before visit it:
The National Museum of Mongolia, also known as the Mongolian National History Museum, is a cultural institution located in Ulaanbaatar, Mongolia. It is considered one of the top attractions in the country and offers visitors a fascinating insight into Mongolia's rich history and culture.
Here are some detailed information about the National Museum of Mongolia:
Location: The museum is situated in the heart of Ulaanbaatar, the capital city of Mongolia. Its address is Juulchin Street-1, Ulaanbaatar, Mongolia.
Exhibits: The museum exhibits a vast collection of artifacts that highlight Mongolia's history from prehistoric times to the present day. It has over 50,000 items, including traditional costumes, tools, weapons, religious objects, artwork, and historical artifacts.
Galleries: The museum is divided into several galleries that showcase different aspects of Mongolia's history and culture. Some of the notable galleries include the Paleontology Hall, Archaeology Hall, Ethnography Hall, and Modern History Hall.
Highlights: The museum's highlights include the famous "Ain Sakhri" handaxe, dinosaur fossils, ancient petroglyphs, traditional Mongolian costumes, and intricate Buddhist artwork. Visitors can also learn about the legendary Mongolian ruler, Genghis Khan, and the rise of the Mongol Empire.
Facilities: The National Museum of Mongolia offers various facilities to enhance visitors' experience. It has a gift shop where you can purchase souvenirs and books related to Mongolian history. Additionally, there is a café where you can take a break and enjoy some refreshments.
Opening Hours: The museum is generally open from 9:00 am to 6:00 pm, Tuesday to Sunday. However, it's advisable to check their official website or contact the museum for the most up-to-date information on opening hours.
Admission Fee: The admission fee for the National Museum of Mongolia is relatively affordable, with discounted rates for students and children. It's always good to check the current fee on their website before planning your visit.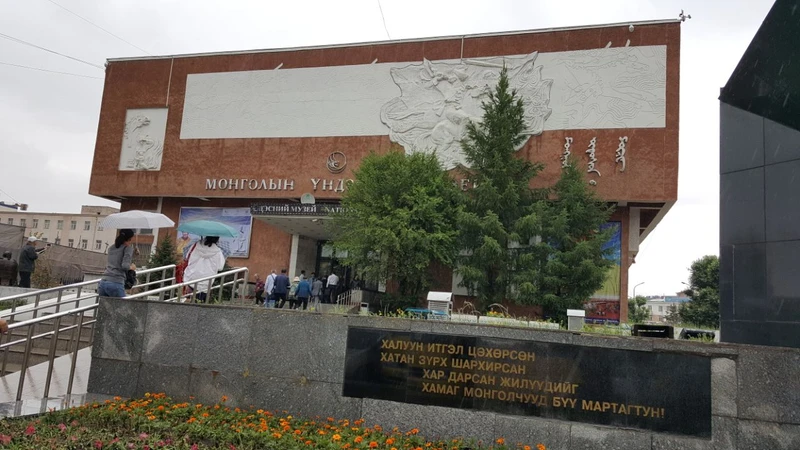 The National Museum of Mongolia is a must-visit for history enthusiasts or anyone interested in understanding the culture and heritage of Mongolia. It offers an engaging and educational experience that helps visitors connect with the country's past.